School Uniform
White House Farm Primary requires all students to wear a school uniform. Our school uniform helps our pupils to feel part of our school community and has been chosen to be comfortable and appropriate for the activities pupils will undertake during the school day.
Government guidance on the cost of school uniforms
In the Autumn of 2021, the government issued new guidance to schools on uniform. The aim of this guidance is to minimise the cost of uniform for parents through a reduction in school branded items, allowing parents to purchase uniform from a wider range of suppliers.
White House Farm Primary and the Sapientia Education Trust fully support making school uniform affordable and accessible for all children, and we have reviewed and changed our school uniform to reflect the requirements outlined in the statutory guidance.
Changes to school uniform from September 2022
From September 2022 there will be no requirement for parents of White House Farm Primary to purchase any item of branded school uniform from any specific supplier. Parents will need to ensure that uniform follows the school requirements which are provided below, but can purchase uniform items from any retailer.
Whilst stocks last, parents are welcome to continue to purchase and use branded items and there is no expectation that parents will need to replace branded items with non-branded items. However, the school will not be ordering any additional branded items from suppliers.
White House Farm Primary also encourages all parents to share unwanted items, branded or unbranded, using the School's Uniform Exchange service, details of which are provided below.
If you are struggling to access any item of uniform during the school year, please contact the school office for guidance and support.
Our uniform
Whilst we have removed the requirement for branded uniform items, it is important that or uniform policy is followed to provide a shared identity for all pupils in our school.
Our uniform requirements are listed below: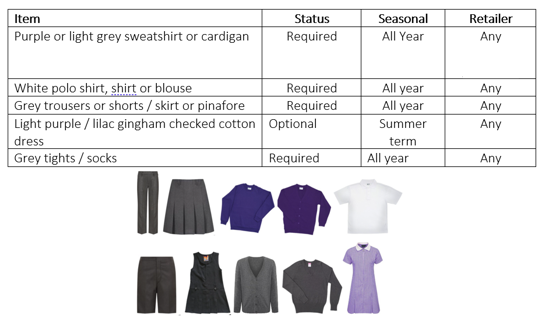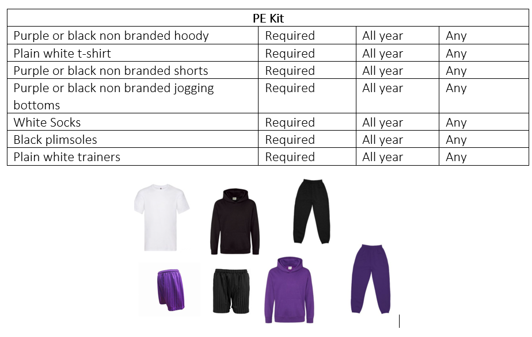 Local specialist supplier information (alphabetical)
Below are the contact details for local specialist suppliers with both online and retail shops who supply school uniform all year round.
Birds of Dereham: www.birdsofdereham.com
We are a long-established family-owned business. We are happy to ship to anywhere in the UK and if you have a panic situation and have been let down, then give us a call and we will always see what we can do to help. We won't promise the impossible, but we will do our best to sort your requirements in a speedy, polite and professional way.
01362 692941 | 01362 699130
enquiries@birdsofdereham.com
Unit D, 13 Yaxham Road, Dereham, NR19 1HB
Stevensons: www.stevensons.co.uk
We combine the traditional service with a complete multi-channel offer, making ordering school uniform and sportswear easier than ever for parents. Our 24 hour online uniform shop offers an efficient and simple way to buy. Whilst for customers who prefer a more traditional shopping experience, our school wear specific retail shops offer a full fitting service. Our Customer Service Team are also available by phone or online chat, to help answer customer questions.
01603 622355
norwichbranch@stevensons.co.uk
67 Ber Street, Norwich, Norfolk, NR1 3AD

Supermarkets and high street retailers (alphabetical)
This section provides links to a range of alternative retail and supermarket suppliers. Stock availability may vary depending on the supplier and time of year.
Aldi: www.aldi.co.uk
Amazon: www.amazon.co.uk
Asda: www.asda.com
John Lewis: www.johnlewis.com
Lidl: www.lidl.co.uk
Marks and Spencer: www.marksandspencer.com
Morrisons: www.morrisons.com
Next: www.next
Sainsburys: www.sainsburys.com
Tesco: www.tesco.com
Uniform Exchange
White House Farm Primary School will be setting up a Uniform Exchange for the second half of the summer term. Parents can donate good quality unwanted school uniform to our Uniform Exchange – this can be found in the school reception area.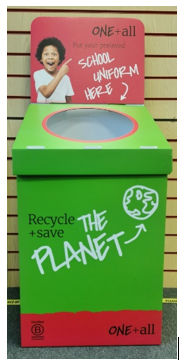 This will then be laundered ready for reuse.
All preloved uniform will be available free of charge with parents needing to complete a uniform request form and which can be handed in at the school office or emailed to office@whf.set.education.
Please note that all pre-loved uniform requests will be subject to availability.
If you have older children at different school who no longer need their uniform, we would gladly accept these donations too!